Blockchain in Manufacturing: A Game Changing Technology
The world of manufacturing is at an impasse. Machining and manufacturing are traditionalist industries—if it's not broken, don't fix it, right? Well, as the world slowly emerges from the pandemic, issues like climate change and supply chain management are now coming to the forefront of our minds. Naturally, our thoughts turned to blockchain, asking how can we use blockchain in manufacturing? Here's what we think.
Blockchain and Manufacturing: An Unlikely Match
Blockchain's qualities of trust, security, automation, and resilience are also qualities prized by manufacturers. The best manufacturers use these traits daily not only to get today's job done but also to grow their business and increase efficiency in the future. On the surface, blockchain and manufacturing couldn't be further apart, however, when we dig deeper, blockchain and manufacturing suit each other perfectly:
Trust: Manufacturers always come back to suppliers, parts, and materials they can depend on—trust is a key component to decision making and investment. Likewise, because the blockchain network validates every transaction it stores, it represents a single source of truth that all participants can trust.
Security: As the need for manufacturers to improve their cybersecurity solutions—whether it be an internal initiative or a government regulation—blockchain offers a hack-resistant solution. Cryptographic signatures, automated verification, and decentralized storage keep the ledger and the data safe from bad actors. In the blockchain framework, users can add data, but they cannot delete it.
Automation: Manufacturers are increasingly turning to robots and automated CNC machines to craft precise parts for hours or even days at a time since these systems don't tire nor lose quality. These systems allow humans to focus on jobs that can only be done by humans. Similarly, blockchain allows participants to set up self-executing smart contracts, which would allow repetitive processes like billing and shipping to be fully automated.
Resilience: Blockchain's decentralized ledgers are just that—decentralized. This means that the database is distributed across multiple locations in the network, so even if part of the network fails, the blockchain itself can continue to operate seamlessly. Also, if a party were to leave a network, none of the data on blockchain is lost.
Blockchain in Manufacturing Processes
There are many finer points of manufacturing: from the design, production, and quality assurance, to packaging, shipping, and receiving—and that's just getting the parts into the customer's hands! Then service, maintenance, and repair must also be considered. Here are some specifics on how blockchain can help:
Supply Chain Management
The supply chain as it exists today is particularly primed for an overhaul. It's no secret that the supply chain has been drastically slowed in the wake of the pandemic. In fact, we've written about this before in our blog, Applications for Blockchain in Supply Chain Management, so, there's no doubt in our minds that blockchain would bring an undeniable boon to supply chain management.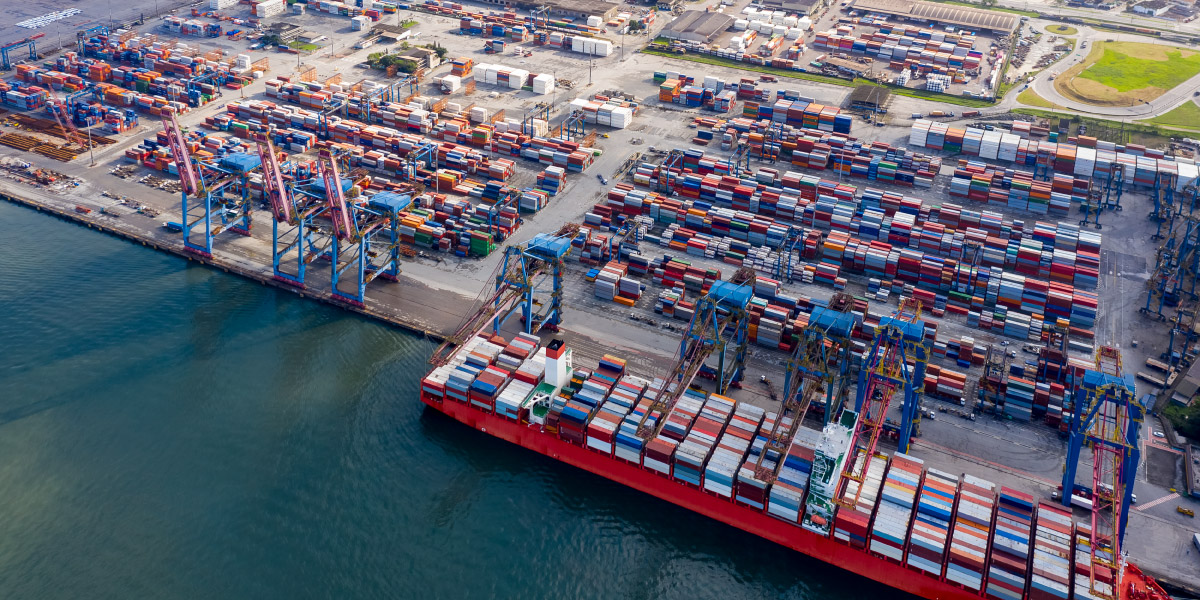 The supply chain has been greatly affected by the pandemic. Blockchain would help get the supply chain back on track.
Simplify Quality Assurance
We know blockchain customers track and trace their shipped parts, but it can also help create immutable documentation of quality checks and production process data. The database will tag each product and automatically record every transaction, modification, or quality check on the blockchain. This can eliminate the need for the customer to spend their valuable time verifying the quality of the parts they receive since that data has been incorruptibly stored on the blockchain. Potentially, this would also reduce the need for OEMs or central authorities to audit quality controls.
Regulatory Compliance
As the technology in our cars has improved, safety and environmental standards have improved as well. Compliance standards affect both the car as a whole and its individual parts. So, proving a car model meets all standards requires the tracking and organization of thousands of pieces of data. Using IBM's blockchain solution, Renault Group (a partner of Nissan and Mitsubishi) used a platform known as XCEED (eXtended Compliance End-to-End Distributed) to securely store and share accurate, up-to-date information about regulations and how well their solutions met those standards.
Blockchain in Manufacturing Aircrafts
If you want a concrete, real-world example of the interaction between blockchain and manufacturers, look no further than the manufacture and maintenance of aircraft. Modern aircraft are an amalgamation of hundreds of thousands or even millions of parts coming from a wide array of suppliers. Each part must be individually fit for purpose, but it also must fit into the greater system, so understanding the history of each part is crucial.
Even with the advances of sensors, connections, data analysis, and cloud computing, the ability to see information about parts is lackluster. The use of blockchain would bring trust into the process by balancing transparency with privacy. Blockchain would be able to trace the history of individual parts, but it can also seamlessly record the part's configuration for every flight of its operating life.
Blockchain maintains the ability to generate a digital record for every part that's installed in a plane and updates that record after each service or inspection.
SIMBA's Solutions for Manufacturers
SIMBA has a proud history of partnering with innovative manufacturers who are looking for a better way to navigate the complexities of their industry. From welding to construction, SIMBA's Enterprise Solution helps manufacturers integrate smart contracts and other blockchain solutions into their processes. Our powerful platform provides a gateway for manufacturers to build and realize their aspirations of decentralized solutions without needing to know how to code. Want to know more? Contact SIMBA