Meet the 2021 SIMBA Interns
In 2021, SIMBA Chain welcomed several new interns.
Learn more about each one of them below!

COLETTE WASSON
It's a natural question: why would a Political Science major do an internship in blockchain? Shouldn't you be going to law school?
Colette Wasson smiles-she's heard that questions a hundred times. But being a SIMBA Chain intern makes perfect sense to her. "Blockchain is relevant to every job field today and I want to get in on the front end," the University of Illinois senior says.
That said, Colette admits she's no coder. But since starting her 10-week internship with SIMBA Chain, she's spent a lot of time using the app and getting as fluent as possible on its use. And since she will be trying to convince universities across the Midwest to make SIMBA Chain's blockchain platform as part of their curriculum, she's also been practicing her pitch.
"I was told I'd have to be able to explain how to use SIMBA Chain to a kid, so I've been practicing on my mom. She gets it" laughs Colette. "I guess I'm ready to get SIMBA out into the education sphere."
Cold-call selling is a tough gig, but Colette is up for it. "The SIMBA interns have an advantage because we grew up tech. Another advantage is we bring the younger generation's approach to use cases. We can explain to professors why they need SIMBA Chain for their students."
She also has a special tactic: she's not going straight to computer science departments. Any academic department is a potential customer because students don't know how to code–SIMBA Chain does that for you. "I am going to show SIMBA Chain and all of the uses to as many people as possible. As a college student, I think I'll have credibility with professors."
All of the SIMBA Chain interns are working on their own blockchain dapps. In this instance, Colette is going back to her political science roots with an idea for an election integrity dapp. "There's a lot of mistrust in the voting process. Blockchain is tamper evident, would count votes in real time, and I believe, restore confidence to election" she says.
Colette is appreciative of the opportunity to work with the SIMBA Chain team. "I'm going to take in as much as I can. It's exciting to be a SIMBA influencer and part of the company's grassroots effort to get its blockchain platform out." 
When not working and looking forward to graduation in May, Colette admits she has a new hobby: plant mom. "It's really crazy; the Swiss chard is trying to takeover my room!"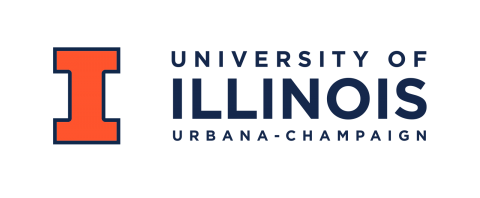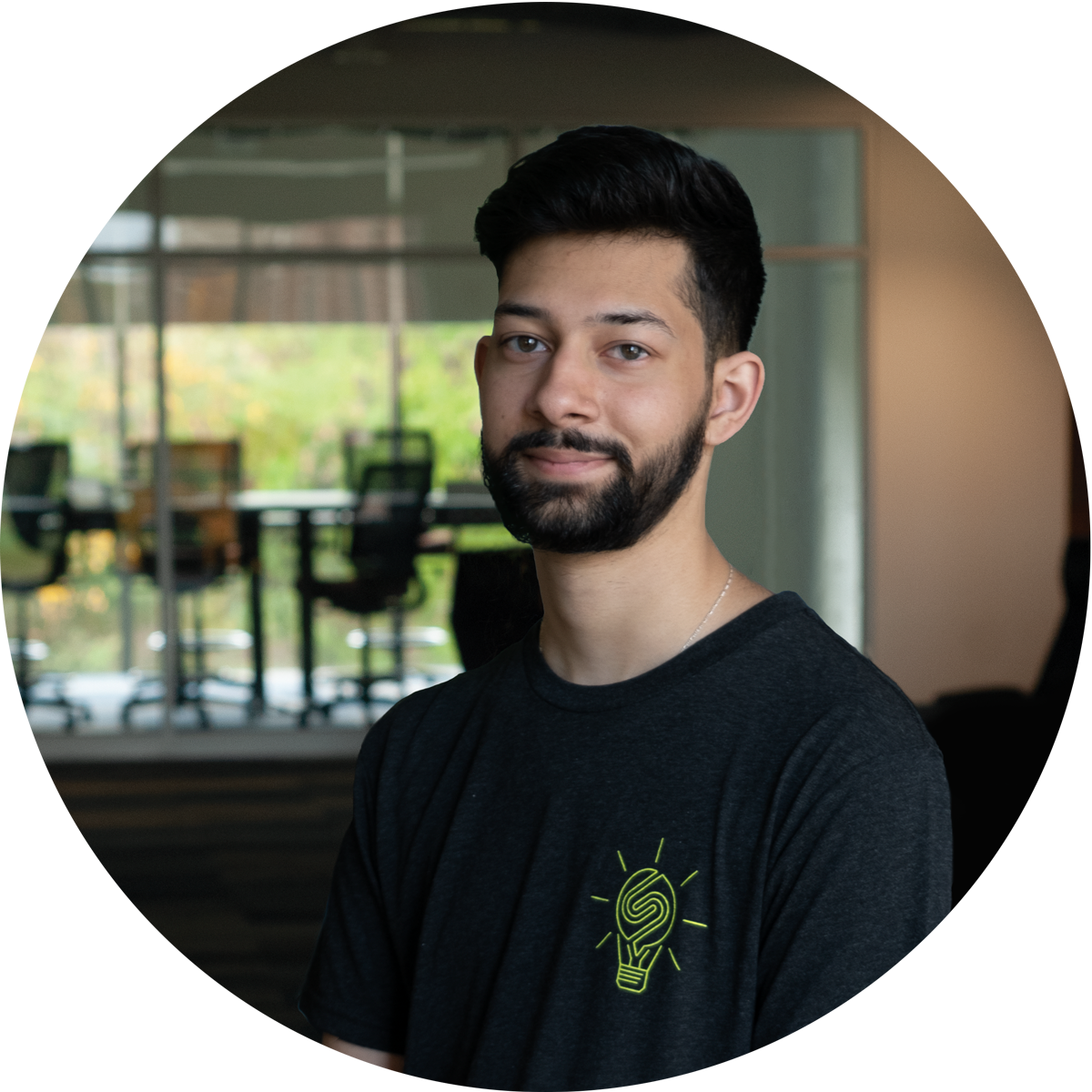 TARIQ WASEEM
Tariq Waseem came to blockchain out of fascination. In 2017, he was riding the bitcoin boom, just dabbling, nothing big, when in 2018 the Great Crypto Winter struck. In less than a month, the price of Bitcoin dropped by 65 percent.
"I was not prepared and felt lost," admits the Georgie State University senior. "Then I realized there's got to be more to blockchain technology than just crypto. I decided to gain all of the knowledge I could about blockchain and how to use it. The real work is done when people aren't paying attention."
Tariq started a blockchain club at Georgia State, an Atlanta-based university recognized in 2021 as the third most innovative university in the country by U.S. News & World Report. "I wanted to bring together people who shared my interest in blockchain and the mindset it brought along with it."
At the time, Tariq had no programming skills but did have ideas for blockchain applications running through his head. Looking for a tool that would allow him to build a proof-of-concept dapp, he came across SIMBA Chain and started using the platform. "People my age want something they can see and that's what SIMBA does. It makes everything visual so it's easy for non-programmers like me to play around with."
This winter, he heard about the SIMBA Chain internships through a video. Normally reserved, Tariq decided to take a chance and apply. "I had waited this many years since the Crypto Winter, I just needed to try-and I got the internship!"
Joining the SIMBA Chain team has given Tariq new confidence in himself along with a larger community of people who share his passion for blockchain. "With the internship program, SIMBA Chain is creating synergy among those who recognize the potential of blockchain. I am really excited to see how the blockchain business will evolve and building it together with my new colleagues."
One area of interest is using blockchain to address the issue of data ownership. "Right now people don't actually own the data they generate and it's sometimes too complex to manage themselves. But when there's a corporate hack, we're notified when the damage is already done. I'd like to develop a dapp that better detects personal data leaks," he says.
When not working, you can find Tariq playing ultimate frisbee or skateboarding. With a smile he reveals a secret. "The people you least expect, skate."
Something tells us Tariq may find some other skateboarders on the SIMBA Team.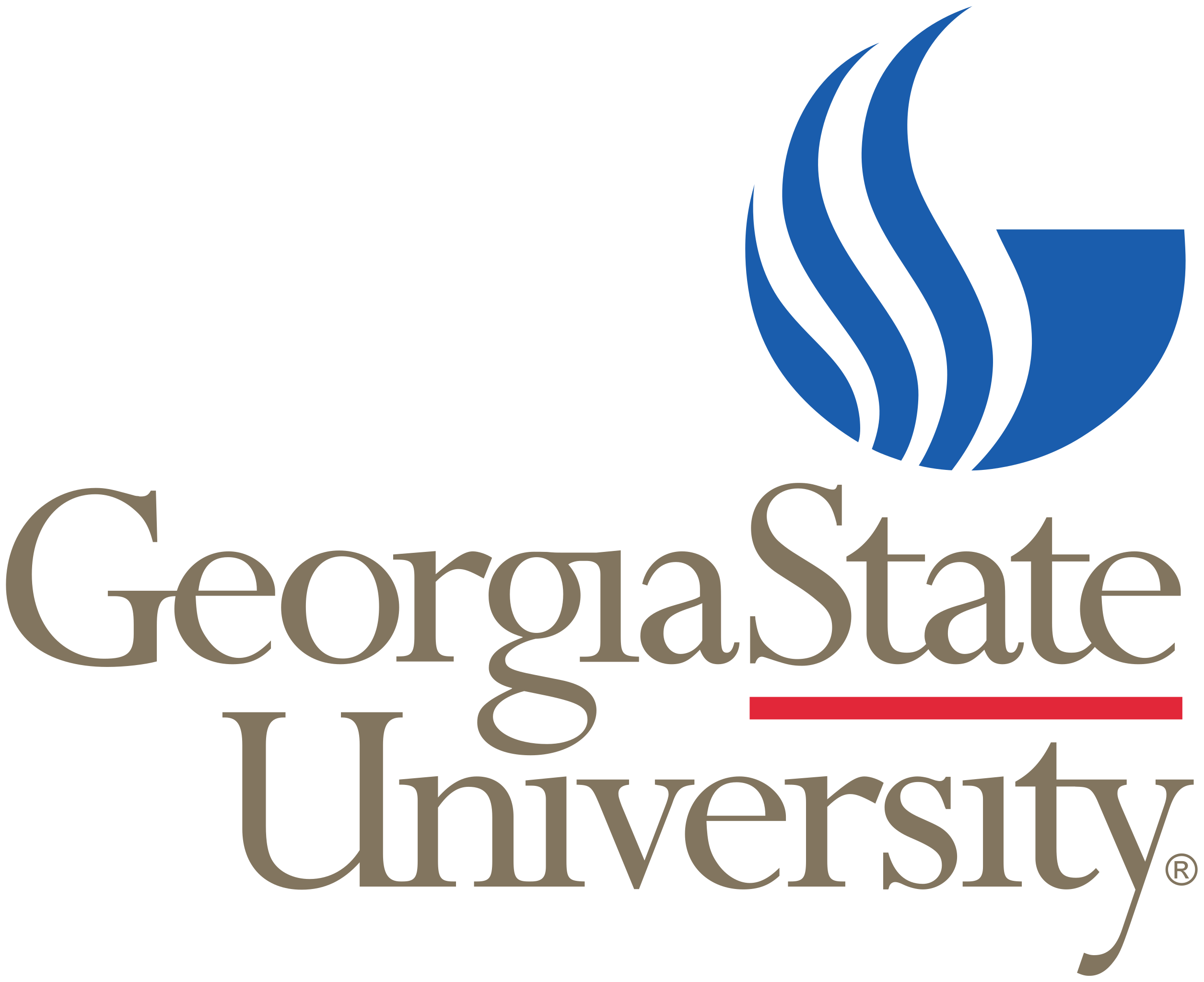 RILEY FAY
While a marketing major at Portland State University, Riley Fay was talking with one of her professors whose daughter was working in Germany in blockchain. "Blockchain seemed very exciting. So after I got my undergrad degree, I decided to earn a Master's in Applied Data Sciences and earn a Certificate in Blockchain at the same time," she explains.
Students in Portland State's blockchain certificate program learn the technology using SIMBA Chain's platform. That's where Riley first learned about the company.
"SIMBA Chain makes creating smart contracts very simple. I could see plenty of applications for smart contracts, but particularly in the banking industry. I like the idea of removing big banks as middlemen," she says.
Riley learned about SIMBA Chain's internship program through David Wasson who directs the company's academic partnerships and works directly with Portland State. He explained that SIMBA Chain's interns would serve as thought leaders and ambassadors for other university students across the U.S. and around the world. That was attractive to Riley so she applied and landed a position.
"At first SIMBA Chain was overwhelming," she admits. "But once I started playing with the tools, the process of creating smart contracts with visual tools became easy, much easier than if I had to develop the code."
What she is looking forward to most from the internship is gaining real-world experience in blockchain technology. "I am really eager to step into the space and get my foot in the door," she says.
Meanwhile, as she has been getting to know her fellow SIMBA Chain interns, Riley has had lots of random ideas about solving problems with blockchain. One of those possibly incorporating smart contracts into the food delivery industry in a way that streamlines the process of ordering, paying for and getting one's food. "There's got to be a better way," she says.
She also is excited to be part of SIMBA Chain's network of influencers and dreams of leveraging her blockchain skills in the marketing industry one day.
One thing her colleagues probably don't know about Riley is that she used to rider a Ninja 250 street bike– until someone stole it. Thanks to COVID and the lost Ninja, Riley has taken up a new hobby, cooking.
"I make some pretty good enchiladas, red and green sauce."
Maybe she'll try them out on the SIMBA team.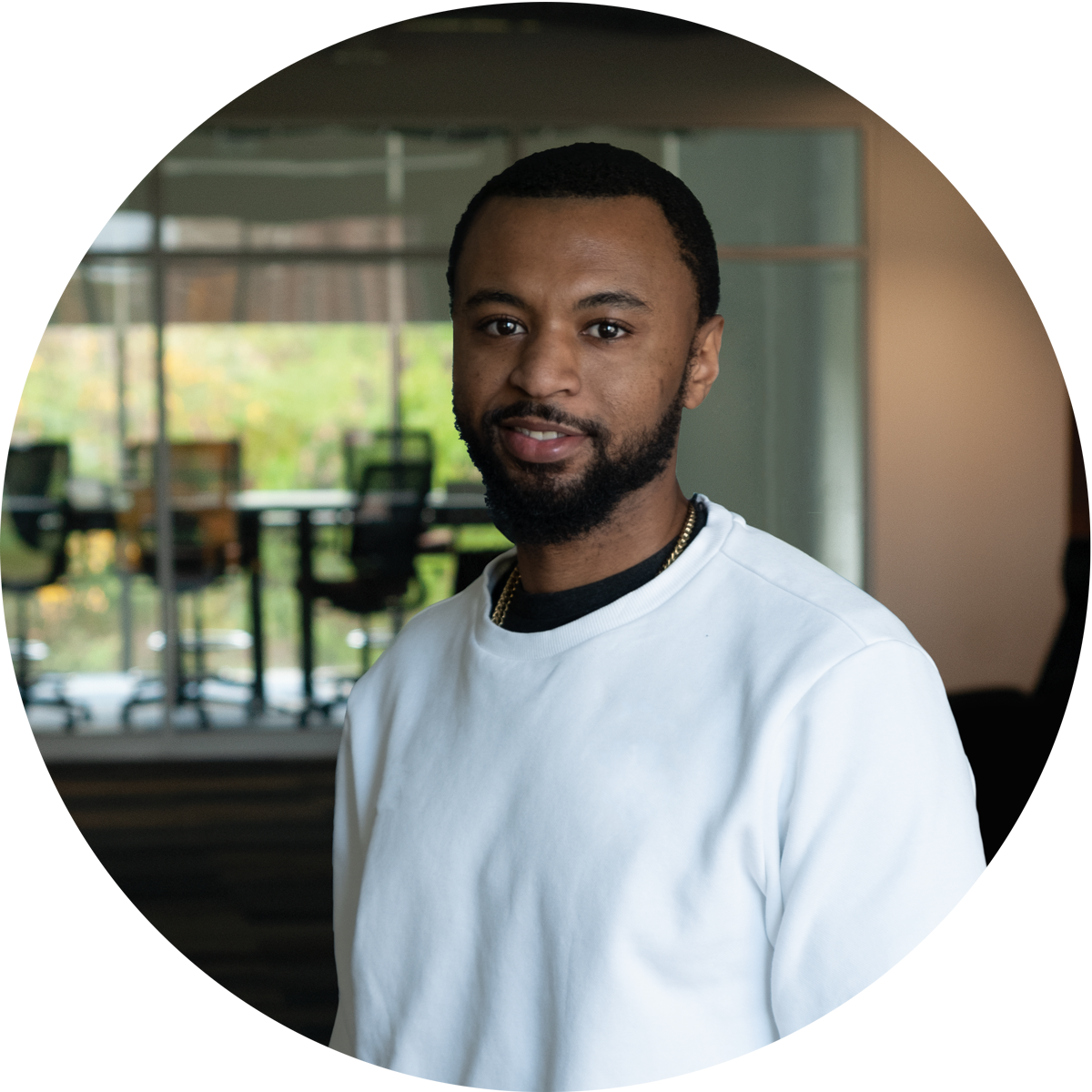 CAMERON PAM
After serving in the U.S. Army as a network engineer, Cameron Pam enrolled at Portland State University and graduated in December 2020 with a degree in Social Science. His reasoning behind the degree choice was simple: 
"I had worked in tech and studied software development; I didn't need a degree in it. Social Sciences made perfect sense. Tech adoption is a social experience and I wanted to understand the psychology behind it. That was knowledge I could use to influence social good in the future," he explains.
Before graduating, Cameron decided to earn a Certificate in Blockchain for Business offered through Portland State' School of Business. His interest in blockchain is fueled by another passion: the entertainment industry. Cameron has worked in audio engineering, mixing and mastering music, and saw an opportunity for improvement.
"Artists and producers are typically paid royalties on a quarterly basis. There's an opportunity to use smart contracts to protect an artist's IP but also to streamline and automate the payment process," he explains. 
Cameron was attracted to SIMBA Chain because of the opportunity to take a deep dive into smart contracts. He was also interested in a new SIMBA Chain offering, Media Verify, that enables digital asset owners to authenticate official images, videos, and any publicly released media asset.
"I'm very ambitious," Cameron says. "I want to use my time with SIMBA Chain to get into the atmosphere of blockchain, become fluent in the technology and how it can be used, and increase my blockchain network. The knowledge I gain will help me, as an entrepreneur, create new solutions for the entertainment industry and social good initiatives."
To recharge and relax, Cameron enjoys hiking, reading, and connecting with loved ones. Then it's back to the business of blockchain.


NATE POLA
When Nate Pola gets into something, he goes all in.
Take languages as an example. He lived in Spain as a kid so he speaks Spanish. Given the easy route of taking Spanish in school, he opted to take Chinese instead. Now, the University of California-Berkeley junior counts Chinese among his majors (Economics and Computer Science are his other majors) and is planning a semester abroad in China to perfect his Mandarin.
Then there's blockchain. Nate got interested in Bitcoin a few years back. As he got more into it, he realized cryptocurrency was just the tip of the iceberg. Blockchain, the underlying technology, was the real future. So he dove in headfirst.
"I joined the Blockchain at Berkeley club and got involved in Berkeley's blockchain accelerator at the Entrepreneurship Center. I also study cryptocurrency and blockchain in my economics classes and teach a course on blockchain to 140 students. Next semester I hope to use SIMBA Chain in the course," Nate says.
The SIMBA Chain internships is a logical next step for this blockchain expert in the making. Onboard with the SIMBA Chain team since February, Nate says it's been a great way to meet people during the pandemic. "I've been interacting with university professors and others to gauge interest in blockchain curriculum. I'm also blogging for SIMBA Chain on how to use blockchain outside of computer science in areas like law, business and economics."
Nate also is working on his own use case with SIMBA Chain's David Wasson. "One of the things I've observed is just how slow the patent process is. Speed is of the essence when protecting your intellectual property. My solution is to establish your IP on blockchain as your proof of ownership. It's time stamped, immutable and tamper evidence and so much better than the old way of mailing yourself a letter just to use the postmark as proof."
Which leads us to one last bit of proof on Nate's all-in personality. His dream job since the age of four has been to serve as the music director at a summer camp in California called "The Lair of the Bear." For the last 16 or so years, he has honed his guitar and harmonica playing skills. This summer Nate's dream will come true. He landed the gig as music director at the camp and will be leading family fun and musical shows.
Just come back to SIMBA Chain when you're through. O.K., Nate?